Products
We've researched the best products to benefit you healing, alleviating symptoms and optimising recovery. From tapes to braces, joint supplements to orthotics, we can be sure that you choose the correct product to treat your particular concern.

XR Slides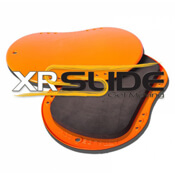 XR Slides allow for smooth, fluid, graceful movements. Gliding exercises are extremely versatile, working multiple muscles while engaging core stabilization throughout the range of motion. Simplicity of movement makes this unique exercise system adaptable.
Wrist Braces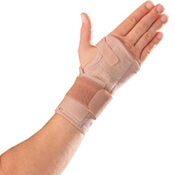 Arena Joondalup Physiotherapy offers a variety of supported wrist braces, excellent for conditions such as carpal tunnel syndrome and ligament sprains. These allow use of the hand while still immobilising.
Thumb Braces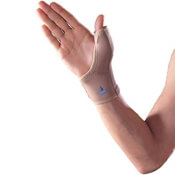 A must for thumb tendon pathology (De Quervain's Syndrome). Immobilises the sore joint/tendon, whilst allowing use of the hand.
Tennis Elbow Braces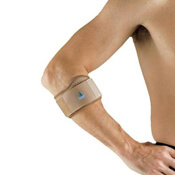 Unloads the tendon with a silicone pad, decreasing pain and improving function. Allows you to continue to work/exercise as you rehabilitate the injury.
Tapes and Bandages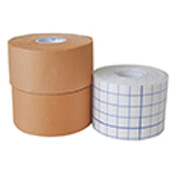 At Arena Joondalup Physiotherapy we offer a complete selection of sports tapes, underwraps, elasticated and rigid bandages and dynamic tapes (Rocktape).
Hinged Knee Braces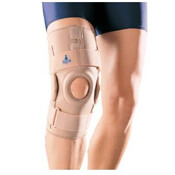 A complete range of fixed, hinged or non-hinged knee braces to give you support for your specific knee problem. Fitted to your size.
Slappa's Thongs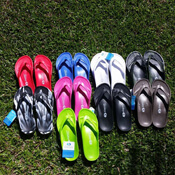 A complete range of the hugely popular Slappas Thongs, in all colours and sizes. Perfect for our climate, giving you the freedom of a thong/flip-flop with great arch support.
Spikey Balls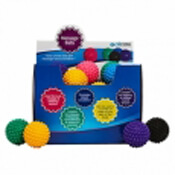 Excellent aids in getting into those trigger points and tight spots, allowing you to self-massage and relieve tension and pain. A complet selection of sizes and firmness.
Pregnancy Belts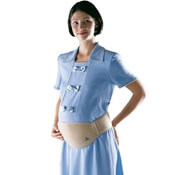 Comfortable, effective support, specifically designed for those suffering with pain or discomfort during pregnancy.
Powerbands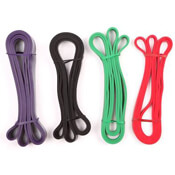 A variety of resistive 'loop' bands that are excellent for strengthening, stability and core training and specific rehab.
Patella-Femoral (kneecap) Braces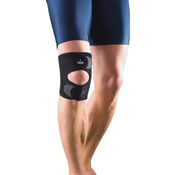 A selection of kneecap supportive braces that help to correct kneecap alignment and tracking. Can significantly reduce pain and improve function.
Sacro-Iliac (SIJ) Belts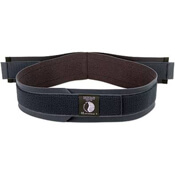 Simple, strong and effective support for those with a specific SIJ dysfunction. Can be used anytime, including with sports and exercise.
REACTION WEB knee brace by Donjoy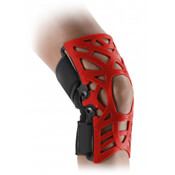 A responsive, webbed approach to knee pain that gives you a distinct alternative to the basic knee sleeve. Developed by world renown orthopedic surgeon, Dr. William Nordt, the REACTION WEB can help decrease knee pain and increase function to get you back to your active lifestyle. The elastomeric web is an innovative solution that absorbs shock, disperses energy and shifts pain away from your knee. This comfortable, easy to apply solution takes the shape of your knee, with an improved design engineered for better fit and comfort. (Includes sleeve)
Foot Orthotics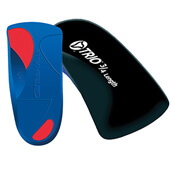 For the growing foot or for those with only minimal foot issues, these inserts can be fitted to your size, moulded with heat to your foot and provide excellent support, correcting biomechanincs for issues including plantar fasciitis, achilles tendinopathy, knee alignment issues and many more.
Opti-Comfort Elbow Crutches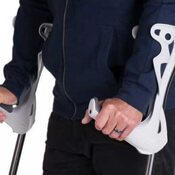 The most comfortable and safest elbow crutches we can find.  Features include:
Lightweight at only 465g per crutch
Max user weight of 130kg
Ultra-soft grip and soft forearm protection
Ferrules that achieve maximum contact with ground
Restive Bands and Tubing
A variety of restive bands, excellent for rehab, strengthening and stability training.
Massage Sticks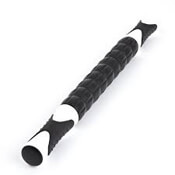 A great way to 'roll' your muscles to improve range and flexibility. Not quite as aggressive as your foam rollers.
Lumbar Support Cushions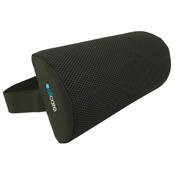 Excellent lumbar support, can be used anywhere, including on the carseat, at work or at home. The elastic strap allows for perfect positioning.
Back Braces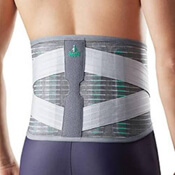 A variety of lumbar and thoracic braces that provide excellent support, relieving pain and tension, allowing you to work, rest and play easier.
ASO Ankle Brace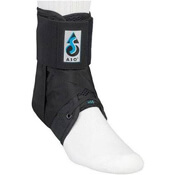 The most supportive ankle brace we can find, that allows excellent motion for running, jumping and cutting sports, but provides brilliant lateral and medial support.
BlackRoll Foam Rollers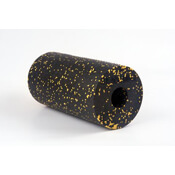 Not just a foam roller, the German-made BLACKROLL® standard gives outstanding performance and longevity. Highly durable and effective for a variety of applications.
---
Arena Joondalup Physiotherapy | (08) 9301 1600