Manipulative and Sports Physiotherapy Joondalup
Restoring Your Mobility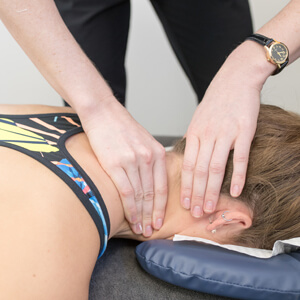 If you have a joint that feels stiff or has a restricted range of motion, manipulative physiotherapy may restore its normal movement. It involves the use of a high-velocity thrust, often resulting in a clicking noise. The team at Arena Joondalup Physiotherapy undergoes regular continuing education to ensure that the techniques we use are up to date and highly effective. At regular group sessions, these thrusting methods are practiced while under the supervision of a specialist musculoskeletal therapist, ensuring that you receive the best possible care.
Any joint can be manipulated. Our physiotherapists, however, use manipulation only when necessary. We will make sure that you feel comfortable proceeding with it, are fully informed and that we have your consent to do so.
Performing Well in Your Sport
Whether you've been injured or simply want to break your own personal records, physiotherapy can help you achieve your goals of performing at your best. Injuries are all too common in athletes, whether casual joggers or those who compete at an elite level. We'll create a personalised program made up of the appropriate solutions and walk you through each step.
Want to Learn More?
Schedule your first appointment today! We accept walk-ins and are happy to process your health fund rebate on-site with HICAPS.
---
Sports Physiotherapy in Joondalup WA | (08) 9301 1600