LiteGait Altered Gravity Training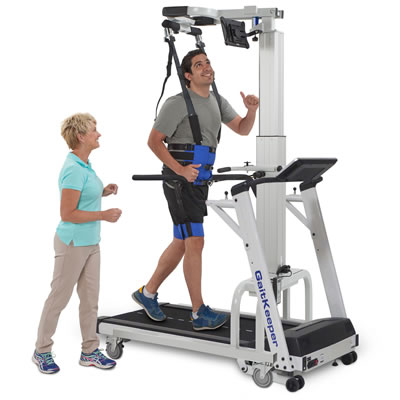 Arena Joondalup Physiotherapy is delighted to provide our clients with the cutting-edge technology, altered-gravity rehabilitation platform, LiteGait. This technology is a perfect addition to our expanding practice, allowing ideal progression for our clients recovering from lower limb surgeries or injuries. To us, it is the missing link in a lot of lower limb rehab cases, one that allows for a quicker, more comfortable and biomechanically correct return to walking, and in some cases, running.
LiteGait is a gait training device that simultaneously controls weightbearing ,posture, and balance over a treadmill or overground. It creates an ideal environment for treating people with a wide range of impairments and functional levels.
LiteGait provides proper posture, reduces weightbearing, eliminates concerns for balance, and facilitates the training of coordinated lower limb movement. It's unique harness design not only permits unilateral or bilateral support allowing progression of the weightbearing load from non to full weightbearing, but also allows the Physiotherapist to manually assist the legs and pelvis to achieve proper gait patterns. The LiteGait harness provides postural control from all angles.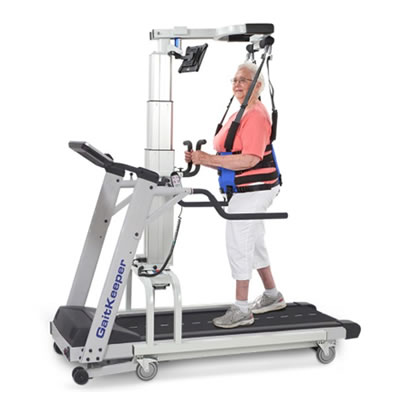 Sensors installed in the Gait Keeper Treadmill allow objective gait assessment. Data is sent 250 times a second to the tablet. The Gait Sensor software determines gait events in real time, and allows for immediate correction. The LiteGait's sensors measure the weightbearing load changes from the right to left side during the gait cycle. The BiSym monitor displays the value of support provided by LiteGait, comparing left to right. These real time measurements can be used as biofeedback for the patient.
LiteGait is suitable to use for all levels of mobility, impairment and all ages. From the person with a joint replacement to the elite athlete returning from injury. The Treadmill allows you to start at a crawling pace and progress as far as running.
Post-operation
Total Hip/Knee Replacement
Ankle/Knee/Hip Surgery
Injury Rehabilitation
Ankle/Knee/Hip Muscular Tear
Stroke Rehab
Gait Re-education
Falls Prevention
Want to Learn More?
If you're ready to schedule your appointment, contact our team today. We offer convenient late opening hours and have Saturday visits!
---
LiteGait Altered Gravity Training in Joondalup WA | (08) 9301 1600