Tiffany Illingworth, Physiotherapist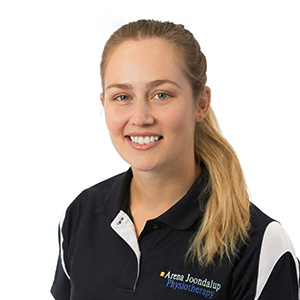 A 2016 graduate of Curtin University , Tiffany earned a Bachelor of Science in Physiotherapy. She has furthered her education by taking various continuing education courses including:
Sporting Hip
Extensive two-year in-house training covering the entire body
Tiffany finds that she also is continually learning from experiences, patients and colleagues.
Helping Others As She Was Helped
As she sustained numerous sport injuries through the years, Tiffany sought assistance from a physiotherapist so she could continue enjoying the sports she competed in. For Tiffany, the most fulfilling aspect of being a physiotherapist is helping individuals in pain or discomfort, enabling them to make invaluable changes to their quality of life.
I wanted to help other people maintain and improve their quality of life, as I was helped through my adolescent years."
Enjoying an Active Life
Outside of Arena Joondalup Physiotherapy, Tiffany loves to stay active through triathlon training and general physical activity such as going to the gym or beach and walking. She also likes cooking new recipes and experimenting with herbs and spices, watching TV shows and socialising with friends and family.
Want to Learn More?
If you've sustained an injury at work or were an involved in an auto accident, we can provide you with the care you need. Contact us today to book an appointment with one of our experienced physiotherapists!
CONTACT US
---
Arena Joondalup Physiotherapy | (08) 9301 1600